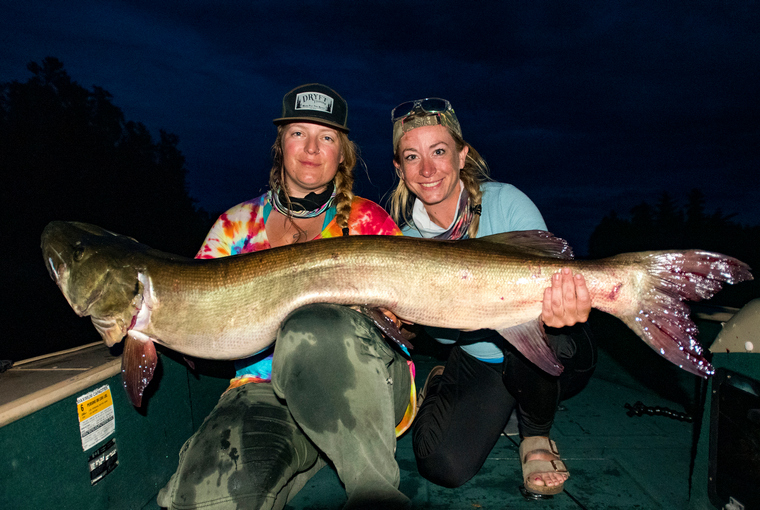 After watching my angling partners cast before making my own, I glanced down at my bucktail in time to catch a flash of white. The fish missed, but just as I planned to do a figure-8, it swiped again. This time, I wasn't asleep at the wheel.
The devil's in the details
This trip was no spur-of the moment decision. Booked for the August full moon, we even had a boat-friendly meal plan scheduled. Desmonde Bennett and I had our sights set on muskie and nothing, not even food breaks, was going to deter us.
We chose Alexander's on Rowan for three strategic reasons: a unique fly-in muskie adventure to up our girls' trip ante, historically large fish, and having an outpost cabin of our very own.
Situated on Rowan Lake in northwestern Ontario, this lodge is distinct in being a fly-in and all-service American-plan muskie destination. The Alexanders, Pat and Cheryl, have owned the lodge for five seasons, and created a beautiful space for guests from near and far.
---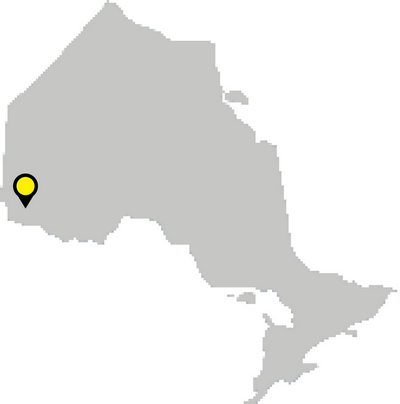 Getting there: Drive to Northwest Flying airbase in Nestor Falls. The flight is included in your trip.
Cost: $1,295.55 US for five full days (your fly-in day is a bonus.)
Boat upgrades, trolling motors, and casting decks were an additional $15 a day and worth every penny.
Contact: 1-855-653-5946, www.alexandersonrowanlake.com
---
Muskie blinders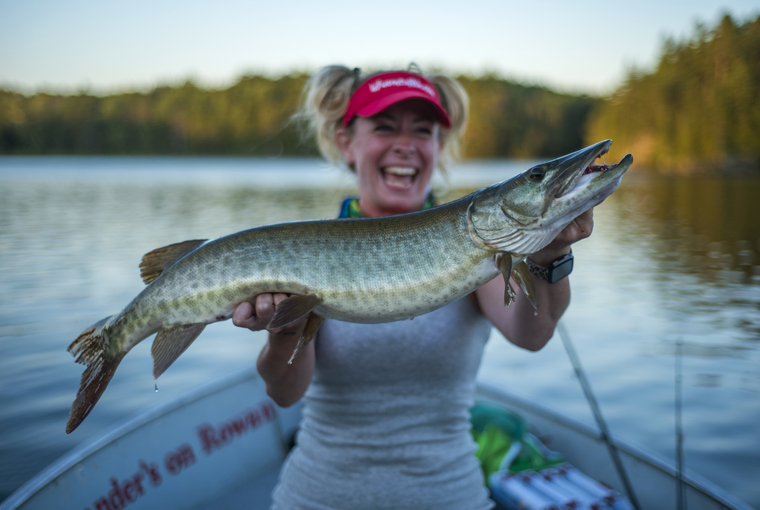 For a trip like this with so much potential for catching large fish, it was paramount I recruit someone with the same size blinders I have when it comes to muskie. Bennett and I bonded over the apex predator a couple summers ago. In just a handful of outings with my keen angling friend from Hayward, Wisconsin, we knew this trip was made for both of us.
Rowan Lake's vast clear waters make even the most seasoned anglers second guess their set-ups, moon phases, and weather patterns. By day two, I thought we'd never dial in this lake. Months later, I'm still not sure we did.
However, Bennett helped me stick to a plan, which I often throw away as fast as a net can sink. The fact that following that plan led her to the first muskie of the trip made me a believer.
Casting her favourite gold-flecked orange Bull Dawg bait into picture-perfect pockets of water close to shore, my determined friend knew something was bound to give.
I was distracted taking photos of the moon hanging above sunlit trees at golden hour when a noise escaped her mouth that could only mean she had hooked into a fish.
Our little jon boat rocked with her hook-set and we bagged the fish a few seconds after I found a dry spot to place the camera.
Boathouse
For six days, we called that boat home. Its hull witnessed several follows, a few missed eats — courtesy of my incompetence — and most of our three daily meals. This was, without a doubt, a muskie trip.
The Canadian Shield is scattered with boreal forest, creating forever-changing scenery around the lake. Rowan is by no means small, but not big enough to shake your confidence while navigating it. Some days, we'd lug our "boathouse" into portage lakes via narrow, rocky channels — in the process, surprising ourselves with our determination. It was an added challenge we likely did not need.
Depending on our mood and the wind each day, we'd set out from our centrally located outpost. We would rush back only when a thunderstorm would appear, so we were able to safely fish near our outpost before it arrived.
Muskie lows
By day five, I was beginning to unravel. My restless nature took over. My ego was bruised by not seeing any muskie and only catching a bass that inhaled a muskie fly. So, we decided some guidance wouldn't hurt, and asked head guide Kris Alexander, son of the lodge owners, about what we, er, I, was doing wrong.
Muskie highs
He took us to a bay where we had started and ended days several times during this trip, but leave it to a guide to make miracles happen. With less than an hour left in the day, we agreed this spot was alluring enough to take us into twilight.
The fish of a lifetime is different for every angler, but for me, it was a 50-incher — something I've been after for eight long years of chasing muskie.
I remember hearing Kris yelling, "You have one on you!" And in true homage to muskie fishing hilarity and insanity, both Bennett and I looked at his bait, not believing either of us are the ones with a muskie in pursuit.
Glancing back at my bucktail, I see the wide-open jaws of a muskie a few feet from the boat. Within a second after the hook-set, the fish was airborne; its tail did not even walk across the water. She was 44.5 inches, with a girth true to Rowan Lake. After her release, we resumed casting.
Kris called last cast as the light faded. Our boat was 15 feet from shore and I was quietly annoyed that my last cast would be such a short one when a dark figure snapped me out of my sulk. There was no figure-8 or hesitation on the retrieve, just full commitment from my fish of a lifetime.
In the net within thirty seconds, every moment replays in slow motion, right up to hoisting her and all her glory into the boat for a photo and quick measurement. Her tail stretched past the red 50-inch bar by almost an inch, making my trip, year, and past eight seasons.
My return is inevitable
As an angler, it's hard to not find something deeply special about this place. That feeling grows tenfold when you also happen to catch a fish of a lifetime. The memories you create will draw you back again and again — whether in thought or reality. And both Bennett and I can't wait to spend another six days floating in our jon boat home.
Originally published in the August 2020 issue of Ontario OUT of DOORS magazine
Click here for stories on travel
For more muskie fishing, click here