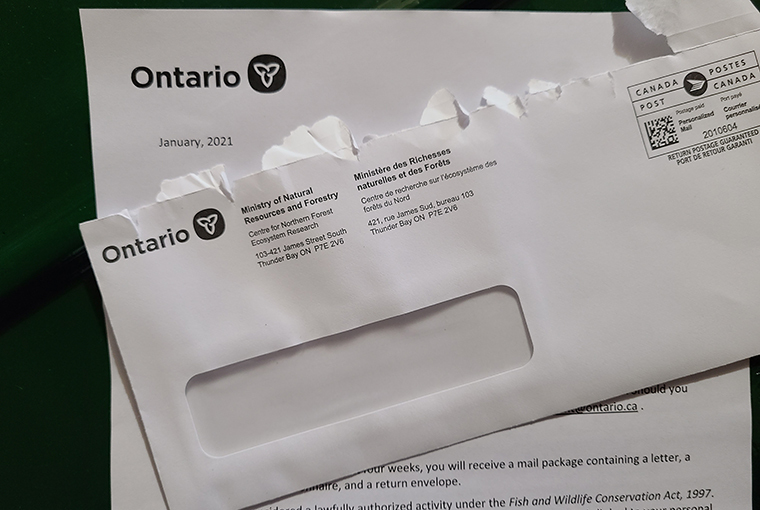 Approximately 32,000 anglers and a sample of seniors across Ontario were asked to complete the Survey of Recreational Fishing in Ontario sent out on Jan. 12.
The eight-page survey, which was first implemented in 1975, and has been conducted every five years, since provides the Ministry of Natural of Resources and Forestry critical information about fishing activity, behaviours, opinions, and expenditures of licensed anglers as well as a sample of seniors who held a valid fishing licence within the last five years. Recipients were asked to complete the survey by April 30, 2021.
Info informs fishery management
MNRF Senior Media Relations Officer Jolanta Kowalski said, "The results of the survey are used to provide fisheries managers with information on angler investments and expenditures, fishing pressure, and fish harvest by area as well as feedback on any programs and policies covered in the questionnaire.
This information is then used for making fisheries management decisions and as input into assessments of programs and policies. Expenditure information is used to provide an overview of the economic activity generated by recreational fishing, which is also used for funding programs, assessing policies, investment projects, tourism marketing, etc."
Previous results available
Results from the (last) 2015 Survey of Recreational Fishing in Canada are now available online here.
It showed:
Anglers spent 1.75 billion dollars on trip expenses and investments to fish in 2015.
1.5 million anglers fished in Ontario in 2015; 1.2 million adult anglers over the age of 18 years and 324,000 children.
68% of anglers over the age of 18 years are Ontario residents, 27% originate from the United States and 5% from other provinces.
Visitors took 607,000 trips to Ontario to fish, resulting in 1.9 million nights of accommodation.
The average age of adult anglers fishing in Ontario is 51 years and 81% are male.
Anglers spent 14.4 million days and 74.6 million hours fishing in Ontario.
Lake Erie, Lake Ontario, Lake Huron & Georgian Bay, Lake Simcoe, Lake of the Woods, Lake Nipissing, Ottawa River, St. Lawrence River, Grand River, Lake St. Clair and Rice Lake were the most frequently fished water bodies.
Walleye is the most targeted species.
Anglers caught approximately 72 million and harvested 13 million fish in Ontario.
Walleye, bass, yellow perch, smallmouth bass and northern pike were the most caught and harvested species.
79% of anglers reported their fishing experience as excellent, very good or good in Ontario.
Click here for more outdoors news
For more on fishing, click here