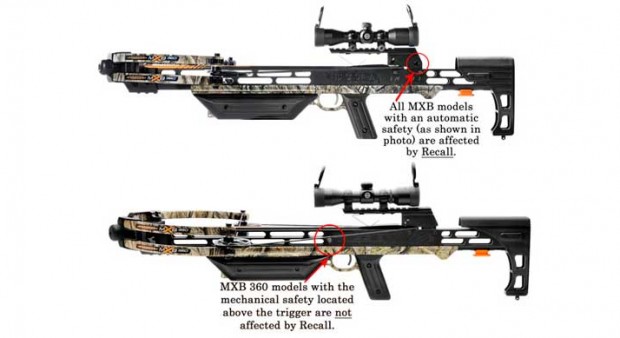 Mission Archery has issued a voluntary recall for 3 of its MXB model crossbows.
Crossbow models MXB-320, MXB-Dagger and MXB-400 with a black safety located behind the trigger, at the rear of the scope mount, have the potential to unintentionally discharge.
The issue occurs when moving the safety from the safe position to the fire position if the trigger was previously pulled while the safety was on.
About 9,500 crossbows are affected. Serial numbers range from XB04879 to XB16555. The serial number is located on the underside of the rail, directly behind the safety.
The affected crossbows were sold from May 2013 through April 2014.
For more information, contact Mission Archery at 1-844-334-8991 or visit the website.
Excalibur issued a similar recall earlier this year. Read the Excaliber recall information here.