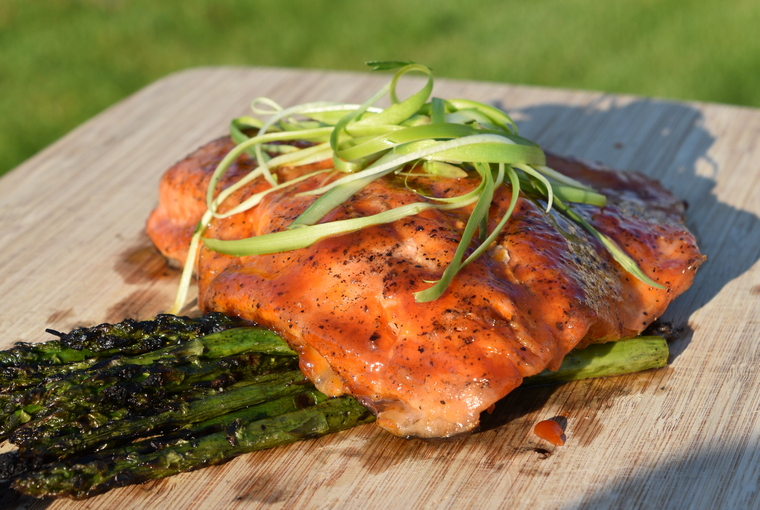 This sticky and boozy barbecue sauce is good on fish but goes great with ribs as well, and this recipe makes enough barbecue sauce for a few meals.
Ingredients
Serves 2
Two 7 oz coho salmon fillets
• Salt and pepper
• Non-stick spray
Sauce
• 2 tbsp olive oil
• 1 yellow onion, diced
• 4 cloves garlic, minced
• 1 cup bourbon whiskey
• 1 cup ketchup
• ½ cup water
• 1 lemon, juiced
• 1 tsp ground cayenne pepper
• 1 tbsp Worcestershire sauce
• 2 tbsp brown sugar
• ¼ cup maple syrup
• Salt and pepper
Directions
1. Heat olive oil over medium high in a sauce pot. Add the onions and cook for 4-5 minutes until they just start to caramelize.
2. Add garlic and cook for an additional 2 minutes. Deglaze pan with bourbon and reduce by half. Be careful if you are using open flame as bourbon can flare up.
3. Stir in ketchup, water, and lemon juice. Bring to a boil and simmer for 5 minutes.
4. Add cayenne pepper, Worcestershire sauce, brown sugar, and maple syrup.
5. Simmer over medium heat for 8-10 minutes, until sauce begins to thicken.
6. Season with salt and pepper.
7. Using a hand blender, puree sauce for a few minutes until no chunks remain.
8. Cool barbecue sauce in refrigerator.
9. Turn barbecue on high heat.
10. Season both sides of salmon with salt and pepper, then use non-stick spray on each side.
11. Grill fish on both sides for 3-5 min­utes depending on thickness, until salmon is cooked through, but not overcooked.
12. Lower heat and glaze fish on topside with 1-2 tbsp of barbecue sauce, depend­ing on how saucy you like it.
13. Serve with your favourite grilled sum­mer vegetables.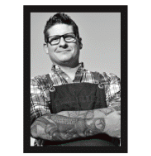 Rochon is OOD's food editor. You can follow more of his culinary adventures on Instagram: @wilderness_chef
Originally published in the August 2019 edition of Ontario OUT of DOORS magazine.
For more fishing stories, click here