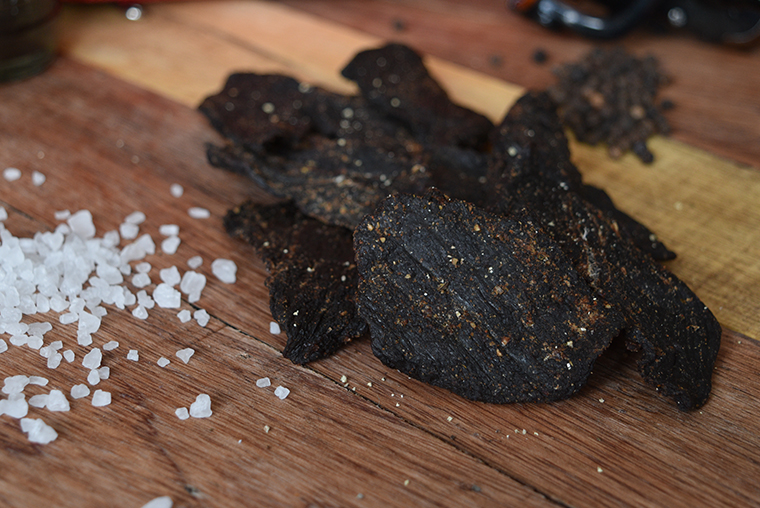 This tasty and healthy venison jerky makes a great snack whether you're on a hunt or on the water. This recipe is best with a dehydrator but a low-heat setting in an oven will do the trick too. The longer you leave the venison in the marinade, the more flavourful your jerky will be.
Ingredients
• 1 lb. venison meat; round or loin, sliced into thin strips
• 3 tbsp. Worcestershire sauce
• 3 tbsp. reduced salt soy sauce
• 1 tbsp. maple syrup
• 1 tbsp. orange juice
• 1 tsp. meat tenderizer
• 1/2 tsp. chipotle powder
• 1/2 tsp. ground mustard
• 1/2 tsp. kosher salt
• 1/2 tsp. garlic powder
• 1/2 tsp. onion powder
• 1/2 tsp. ground black pepper
Directions
Mix all wet and dry ingredients together. Pour over meat and mix well. Pour marinated venison into a zip-lock bag and refrigerate for 6 hours or overnight. Remove marinated venison from bag and dry off any excess marinade. Evenly space slices of venison on dehydrator trays. Set on high for 6-8 hours. If you don't have a dehydrator, place meat on wire rack and bake in oven at 160˚F for 6 hours. Vacuum seal finished jerky or store in an airtight container.
Get 5 butchering tools every game handler needs here.