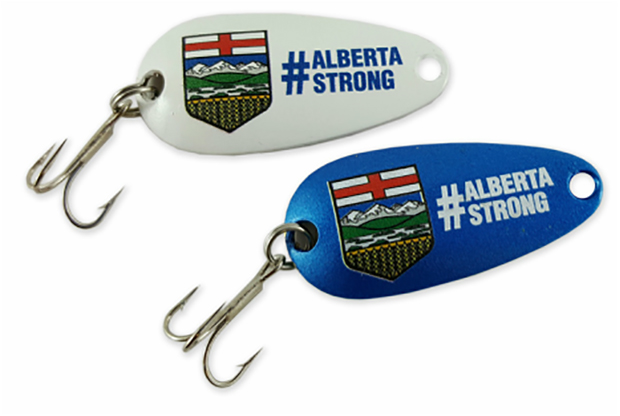 Len Thompson Lures of Lacombe, Alberta and their angling customers stepped up for the residents of Fort McMurray in May.
"As with many of the people in our company, we all know lots of people living in Fort McMurray. Hearing their accounts of the evacuation…and the videos… it still sends tingles up my spine," said President, Brad Pallister. "I called my sister and we talked about how we could best help."
The Pallister siblings thought that their iconic, nationally distributed products could generate interest across the country, and so a pair of prototype #AlbertaStrong fishing lures were quickly made and offered for sale on the company's website.
The Pallisters decided that 100% of the proceeds from the first 1,000 lures sold would be donated to the Canadian Red Cross to help residents of Fort McMurray.
Those lures sold out in 16 hours.
"The response took us by complete surprise," said Jessica Pallister-Dew, the company's marketing manager.
A second run was produced and 50% of the proceeds went to the Red Cross. By the time the May promotion was over, more than 2,600 #AlbertaStrong fishing lures had been sold.
The company also made donations through a photo contest, and by donating 10% of the company's custom promotional lure sales.
"It was amazing to see the positive response from our customers from across the country. And our staff was so dedicated to the cause, working extra hours to make sure we could fulfill these orders as quickly as possible," said Pallister. "Without them, this would not have been possible."
In total, Len Thompson Lures' fundraising efforts resulted in a total donation of $20,482 to the Canadian Red Cross's Alberta Fires appeal.
Read other Ontario OUT of DOORS news here.