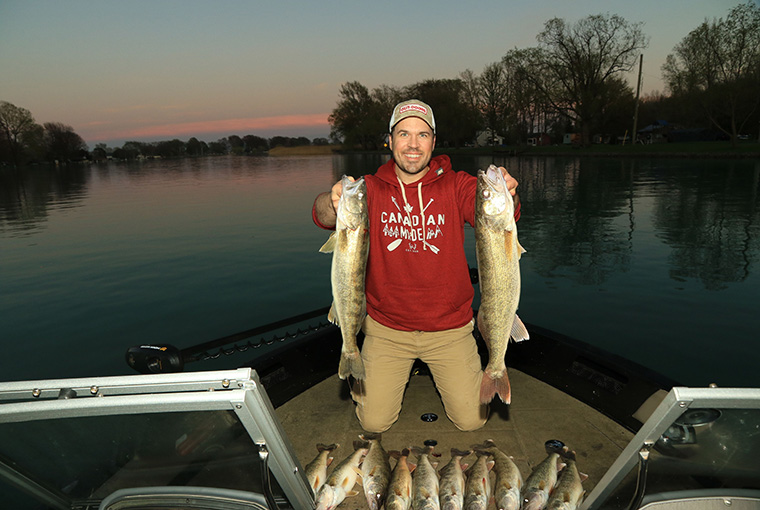 Change a few lyrics around and Alicia Keys' anthem hit, "Girl on Fire" could easily be an ode to the great fishing happening on Lake St. Clair.
Growing up on a fruit farm in Chatham-Kent, it's safe to say I longed to see the world outside its borders. Well-travelled and years later, Chatham-Kent is once again home, and for good reason. While the right reason is probably more along the lines of, "I moved back to be closer to friends and family," I'd be lying if I didn't say the bounties of St. Clair aren't a major factor.
Quite simply, that fishery is on fire, and abound with many of Ontario's prized native species. In particular, smallmouth bass, walleye, and muskie fishing are world class. And though lesser known, the lake coughs up a good number of largemouth bass, pike, catfish, perch, crappie, and other panfish. The sheer numbers of fish is likely the main attractant, but for some species, such as smallmouth bass and muskie, it's a true trophy fishery.
Nestled in the "banana belt" of southwestern Ontario, the beautiful weather and easy access make it a worthy destination for tournament anglers and novices alike.
Geography class
Lake St. Clair is part of the Great Lakes system, bookended by Lake Huron to the north and Lake Erie to the south. The St. Clair River flows from Huron into Lake St. Clair, and then the Detroit River feeds Lake Erie, separating Windsor and Detroit. The US/Canada border runs through the lake, so anglers need to be aware of whose water they're in. The majority of the lake is Canadian, however, and I would dare say the best fishing is too. What makes St. Clair unique is its relative shallowness compared to the other Great Lakes. Again, being near the southernmost point of Canada and in some of the warmest parts of the country, the climate and shallow water encourage submergent vegetation growth, which in turn benefits baitfish to bass, and perch to muskie, and creates a dream fishery. With only 430 square miles (1,113 sq km) of surface area, the entire lake is navigable from virtually any point.
Bass bonanza
Not all things are worth writing home about, but the smallmouth bass fishing is. Highly touted as one of the best bass fisheries on the planet, the lake has garnered accolades from the likes of Bassmaster, which named it the top lake in North America in 2018. Though its position might vary, its being perennially among the top 10. A 25-pound tournament bag is not uncommon, and you'll almost certainly need to be in the 20-pound range to ever cash a cheque in a tournament. But aside from the lunkers cruising below, one of the more interesting aspects is where and how you can catch fish.
One day last summer drove this home for me. My dad and I were out on his birthday, presumably spending it the way he wanted. What was interesting was how and where we caught fish. We found some in five to six feet of water, then found some in 14 to 15 feet, and then hit the shipping channel with drop-shot rigs, pulling up fish from 34 feet. Catching fish at virtually every depth, we caught them on crankbaits, spybaits, tubes, jerkbaits, soft plastics on a drop-shot, and Ned rigs. We didn't throw anything that didn't get hit, and had we been fishing in a tournament that day, we probably would have been biting our nails at the weigh-in with a bag of about 22 pounds.
Where to find them
Look over a contour map of Lake St. Clair and not much is going to jump out at you. There are a few ledges with drop-offs, some holes, and the well-known "Hump," which is about eight kilometres directly north of Belle River. Yes, you'll certainly find fish around these types of spots, but the key to success is to find the weed patches. These vary in placement from year to year, so turn on your electronics to find them. You can also often see them. Weeds near depth changes are best.
Because the lake is like a virtual underwater desert in places, finding weeds out in the middle of nowhere can really spell success. Don't discount shallow water, particularly early in the season. From there it's really about running into the right class of fish. On any given tournament day, you may find one of the leader's boats in shallow water along the north shore, and another leader in deep water in the middle of the lake. There isn't one area that vastly outperforms the others, but visitors may have the best success launching out of Mitchell's Bay and hugging either the north or east shoreline.
Walleye'd never believe that
There are some things that are too good to even dream about. I don't dream about shooting a 190-inch whitetail buck, but last season I did. I don't dream about catching 80 walleye in a day either, but my buddy Alan Cattrysse and I checked that box a couple of seasons ago too. From a walleye fishery that was on life support a decade ago, Lake St. Clair's walleye fishery has undergone a renaissance in the past few years.
The introduction of zebra mussels some time ago was one factor that led to the smallmouth boom. They filtered the water, making St. Clair less turbid than it historically was. Add in the invasive gobies, and the fishery seemed to set up much more favourably for smallmouth than walleye. But for whatever reason, the hatch classes of walleye have been the best on record for three of the last six years. The boom began in 2015, and the 2019 and 2020 hatch classes have been nothing short of remarkable. With so many successful spawning seasons, the walleye fishery should set up banner fishing for the foreseeable future.
From mid-May into June, you can catch walleye coming out of the rivers they spawn in. They put the feed bag on in relatively shallow water in predictable places, before ultimately migrating to deeper water and dispersing. Aside from the St. Clair and Detroit Rivers, walleye also use the Thames, Sydenham, and Snye Rivers. Anywhere along the south and east shore will hold fish shortly after they leave the river. The area north of Tremblay's Beach is a known spot, and west of St. Lukes Bay is great, too. While these are relatively migratory fish, just look for the pack of boats to home in on where they are. If the bite is on, you're definitely not going to be the only one out there.
Walleye techniques
Most anglers are going to boat walleye by trolling, and the most popular lures are worm harnesses and Erie Dearies. Planer boards can help, but even holding your rod while using bottom bouncers for weights will be effective. Trolling or casting crankbaits will also catch fish, although most anglers opt for something with a worm on it. For added fun, I enjoy casting marabou jigs or plastic minnow imitations. When you've located fish, this is a fun way to boat better-quality fish.
Muskie mania
Acre for acre, St. Clair is probably the best muskie fishery in the world. If you chase the fish of ten thousand casts, you probably know all about the lake. I think fishing for muskie is much more like big game hunting than fishing, but the chance at boating several fish in an outing is quite alluring.
Because I very rarely cast for muskie, I tend to do my muskie fishing with a guide. Not only do they have all the gear, but they possess a lot of knowledge, too. Last year my friend and I ventured out with guide Ian Jones, owner of Fish LSC Charters.
It was early in the season and water temperatures weren't quite right to have high hopes. Still, we boated a few fish and ran into a couple of serious bonus pike. For added fun, we then went on to catch a three-man limit of walleye. Fall is really when the action gets good, but I was blown away to see that Jones had a few clients land 24 muskies on a six-hour trip later that year.
When they really put the feed on in September and through October, the mouth of the Thames River is a great place to cruise for them. Additionally, there's a boat launch right at the rivermouth, and anglers can even cast for them right from shore.
Fish me!
Lake St. Clair will always be a fine place to wet a line, but the way the fishery is right now, it's a destination that screams, "Fish me!" For now, and for the foreseeable future, it's on fire. You can bet you'll find me out there this summer; after all, I moved across the country to hunt and fish here.
---
Bass tackle
Novices can have a lot of success using a Carolina rig to drag tubes, or even live bait. Dragging bottom is a good tactic, and the hard lake bottom enables anglers to have a good feel for what's beneath.
It's hard to outperform a tube jig. They've been my go-to for years, although new baits have made drop-shotting a very effective option. Casting, dragging, and even jigging tubes is wildly effective. Use a heavy enough jig to stay in contact with bottom, and then cruise through the weeds.
When dragging, you will get momentarily caught on weeds, and it may feel like you've had a nibble. "Hook-sets are free," as my father says, so don't be shy when this happens — set the hook like a fish is there, and if one isn't, the ripping action of the tube through the weeds will often entice a fish to bite.
You can also tickle the weeds with a crankbait or a spybait just above the cover. There was a Bassmaster Elite tournament on Lake St. Clair last year, and if you do a little digging on the Internet, you'll find most anglers in the top 10 used a combination of drop-shotting plastics and crankbaits.
The ice is nice
I was in the process of writing this story when I had the best day of perch fishing in my life. About 250 jumbo perch later, including my personal best, and I have to say that ice fishing here can be incredible. While it doesn't have the same calibre of fish as Lake Simcoe, it definitely has perch fishing worth talking about. For people with an ATV or snowmobile, the east and south shores have various spots to head out from. For the walkers, and those want- ing to take the whole family out, Mitchell's Bay is the place for you. You can find good fishing inside of a mile, and there are two bait stores.
Later in the season, bluegill and crappie can be found in the shallow water of Mitchell's Bay. Expect to find fish in four to six feet of water there. If you follow the pack of anglers out of the bay, you'll be fishing in 10 to 12 feet. Pike and the odd walleye make an appearance through the ice as well.
---
Muskie guides
Getting there
If you're making a trip to Lake St. Clair, you're undoubtedly coming from the north or east. That means you'll want to take Highway 401 west towards Chatham. Staying in Chatham-Kent will shorten your drive and is a bit more of a relaxing getaway than other spots that border the lake.
The marina at Mitchell's Bay is the best around. It has ample parking and has four, two-boat pads — eight boats can come and go at a time. There are lots of cottages for rent in the Mitchell's Bay area, but check out www.visitck.ca for more info on where to stay, dining options, and other things to do in the area.
---
Originally published in the June 2021 issue of Ontario OUT of DOORS magazine.
For more travel stories, click here