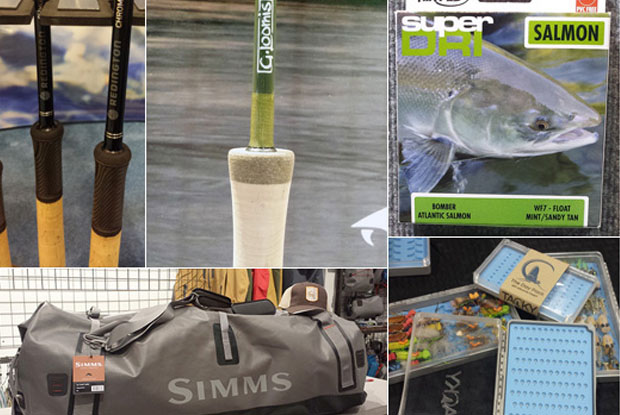 While wandering the aisles of the International Fly Tackle Dealer Show (IFTD) this summer in Orlando, Florida, I was struck not only by the amount of great new fly tackle that was on display, but also by how manufacturers and designers can come up with new, creative ways to tinker and overhaul rods, reels, lines, and other noteworthy accessories.
I've listed the winners of each product category below and added some of my own picks that might not make the highlight reel, but are worth a mention. Look for my top picks and expanded coverage of new fly-fishing gear in the Fishing Annual issue of Ontario OUT of DOORS, due out in February.
Tacky Fishing
* IFTD 2015 Fly Box/Storage System winner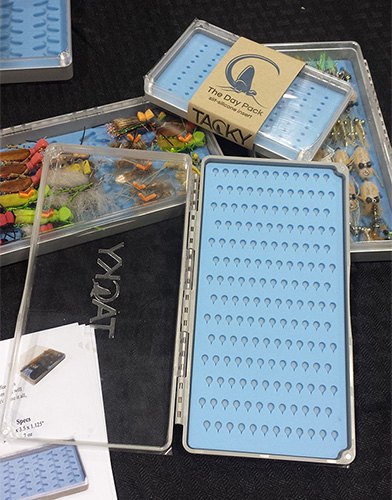 As I'm walking the aisles I come across the Tacky Fishing folks pitching a fly box. OK, another fly box. What gives? The boxes look well designed but isn't it just another fly box, I ask. No, they say, it has a silicone rubber insert. Well, it didn't seem like much until I tried it. Wow, loved it.
It's easy to insert flies into the hook slots (unlike hard foam), easy to remove flies, and the silicone rubber insert isn't easily ripped or worn out (like foam). It's simple, elegant, and functional. A keeper.
Funded and started by a Kickstarter campaign, the boxes are available in The Original (7" x 3 ½" x ¾"), and in different slot numbers and sizes for larger and smaller flies.
Air-Lock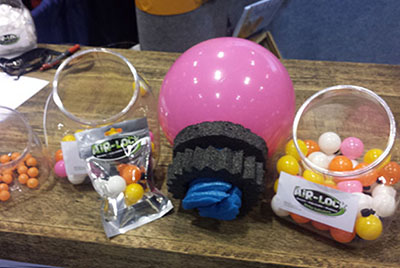 I'm OK with it, as long as you don't call it a bobber. Fly anglers are funny that way. But, as my good friend calls it, there's some great news for "captured-air technology" enthusiasts — also known as strike-indicator anglers.
The Air-Lock Strike Indicator is ultra buoyant, super visible, durable, easy to adjust, and won't render the butt section of your leader a kinky mess. Available in ¾-, 1-, and 1 ¼-inch sizes and in pink, orange, white, and yellow. Check out the video below.
Simms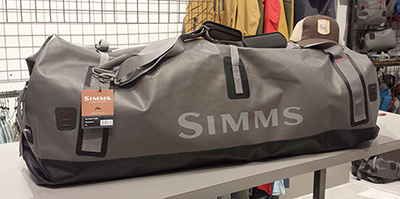 If bigger is better, then you're gonna love the new Simms Dry Creek Duffel XL Bag. The medium and large sizes have already been on the market but look for the expanded XL later this fall.
You can fit in anything you need, and then some, for your next trip, plus it will keep everything dry once you get off that float plane of jet boat.
Airflo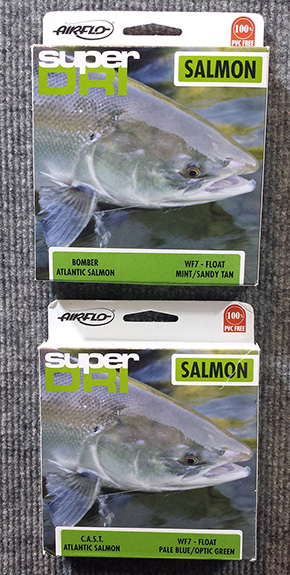 It's commonly known that all great fly-fishing inventions are Canadian, hence the new Airflo Super-DRI C.A.S.T line (Canadian Atlantic Salmon Taper). It's designed to be the ultimate all-around tool for targeting Atlantic salmon with a single-hand rod.
The line loads nine and 10-foot rods easily, and the precise front taper can deliver a fly into the wind but is not so aggressive as to disturb low, clear water late in the season. The C.A.S.T is also an excellent choice for anglers chugging skaters or swinging muddlers and traditional patterns for summer-run steelhead.
The Super-DRI Bomber is also new and designed to do just that, cast large, bushy bomber dry flies to salmon. If that's your thing, this is your line. Available in 7 to 9 weights.
G Loomis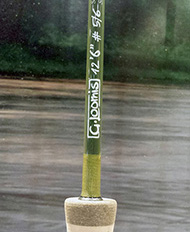 G Loomis never disappoints. And after a few years of multiple releases of their flagship NRX line, the focus has been on their moderately priced PRO4x Series. New additions include the Lite Presentation, Short Stix, Switch, Two-Hand, and Saltwater rods.
Two of my favourite new offerings are the PRO4x Two-Hand 12'6″ 5/6 weight and the 12'6″ 6/7 weight. Both are perfect for steelhead fishing on pretty much any Ontario river or stream.
Redington

Redington used to be one of those companies that only produced entry-level products. Nothing wrong with that, everyone needs an OK product at a good price.
But somewhere along the way (perhaps after being bought up by Far Bank Enterprises, parent company to Sage and Rio) they turned into the little engine that could, and started pumping out cool products, creatively designed and marketed, yet still reasonably priced.
A lot of the rod-industry glory goes to Sage, but I think it's at Redington where most of the great ideas are born and market-tested. One line amongst many that stands out for me is the new Chromer rod, switch and two-handed.
The rods have a nice action and feature custom polymer gripping sections on the top and bottom handles to allow for easy running-line management during casting. The Chromer is available in three switch and five Spey models — from an 11'6" 6 weight to a 13'6" 8 weight.
Einarsson Invictus
The Invictus fly reel by Einarsson is one of those new inventions that's just too difficult to explain with words, photos, or even video (I shot a video anyway). You need to try it out for yourself.
Basically, when you apply drag to a disc-drag reel to stop or slow a fish, the fish (and hopefully the breaking strength of your leader) has to overcome the initial start-up force of the drag. More drag, harder start-up, more chance of breaking your line or pulling your hook.
The Invictus is designed with a torque spring and other advancements that keep the initial start-up pressure light and constant, no matter how tight you crank on the drag. Then, after pulling a few feet of line from the reel, it smoothly cushions into the drag setting you have selected.
It's the best of both worlds: a strong drag with ease of start-up, and one of my top picks of the show.
IFTD Winners

Here's a listing of all the media-chosen IFTD winners:
Men's Waders: Simms Fishing Products: WQW G3 Guide Waders
Women's Waders: Redington: Willow River Wader
Chest Pack/Vest: Fishpond: Summit Sling
Men's Outerwear: Simms Fishing Products: Vapor Elite Jacket
Women's Outerwear: Simms Fishing Products: Women's Hyalite Jacket
Youth Product: Umpqua Feather Merchants: Rock Creek 2S Chest Pack
Eco-Friendly Product: Fishpond: Thunderhead Sling
Fly Rod – Freshwater: Sage Fly Fishing: MOD
Fly Rod – Saltwater: Scott Fly Rod Co: The Meridian
Reel – Freshwater: Nautilus Reels: X 4/6
Reel – Saltwater: Nautilus Reels: X 7/9
Boat/Personal Watercraft: Estrada Art. LLC: Estrada Signature L2 Fish
Fly Line – Freshwater: RIO Products: The Light Line
Fly Line – Saltwater: RIO Products: InTouch Striper Line
Fly Box/Storage System: Tacky Fly Fishing: The Big Bug Box
Fly Tying Materials/Equipment: Peak Fishing: PRVLIRS
Fly Pattern – Freshwater: Fly Men Fishing Co: Broyhill's Jack Knife
Fly Pattern – Saltwater: Umpqua Feather Merchants: Lexo's Pop Up Crab
Accessory: Hatch Outdoors Inc: The Hatch Nipper
Men's General Apparel: Sage Fly Fishing: Guide Shirt
Women's General Apparel: Simms Fishing Products: Women's Pro REINA Shirt
DVD: Angler's Book Supply – Tributaries: The Series
Book: Yellow Dog Flyfishing Adventures – Fly Fish Belize
Gift Item: DeYoung Studio – DeYoung Saltwater Pilsner Glass