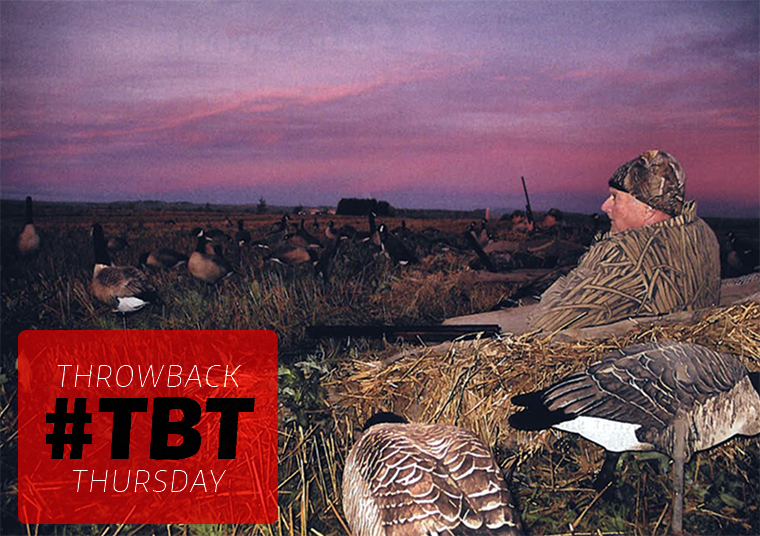 This unique area of northeastern Ontario harbours some of the best duck and goose hunting in the province.
There's a moment, as you drive north on Highway 11 towards Temiskaming Shores, when you crest a rise and the landscape ahead of you unfurls suddenly like a roll of fresh sod. The primal forests and granite of Temagami dissolve, giving way to a checkerboard of fertile fields, cattle-­filled pastures, and picturesque settlements, where church spires and silos are still among the tallest structures around.
Countryside shaped in 8,000 BC
To the east is Lake Temiskaming, head­waters of the mighty Ottawa River. To the northwest, the highway veers towards Thunder Bay and beyond. But here, in the beautiful valley ahead of you, is the Little Clay Belt. A region of out-of-place geography, reminiscent of southwestern Ontario, this fertile countryside was shaped in 8,000 BC when glacial Lake Ojibway-Barlow drained.
My hunting buddy, Carman Coumbs, and I pulled into New Liskeard one Sunday in late September. Sun-drenched round hay bales lined the fields, and prosperous farms and outbuildings shone silver and red just off the concessions. More inter­esting to us, however, was that every now and then flocks of geese or ducks could be seen feeding in the fields or trading across the horizon.
An early-season mecca
Carm and I had devoted the next three days to hunting those very birds. We were to meet Blair Whyte, a die-hard waterfowler and occasional guide, who kindly volunteered to show us how good the area's waterfowling could be.
During our visit, we planned to spend some time in the cattails of Hilliardton Marsh Provincial Wildlife Management Area, a man-made wetland developed by Ducks Unlimited Canada, the Ministry of Natural Resources, the Canadian Wildlife Service, and the Nature Conservancy of Canada in 1993.
Hilliardton and its surroundings are considered a continentally significant staging area for ducks and geese travelling to and from the James Bay and Hudson Bay Lowlands. Typically, mallards, Canada geese, shovellers, northern pintails, scaup, gadwall, teal, and wood ducks pass through here during the early season. The marsh has 10 parking sports for hunters, who must park at the Crick Road entrance. Park your vehicle in one of these spots on any Monday, Wednesday, or Saturday of the waterfowl season and you're entitled to hunt this public area.
A great suggestion
Unfortunately, when we arrived, Blair, who is also a Drake Waterfowl Field Expert and Dakota Decoy Field Staffer, said that shooting at the marsh had slowed down and probably wouldn't get better until the next wave of migrants arrived. Instead, he suggested field hunting for geese and mallards during our stay. It turned out to be a fine idea.
In a word, the shooting was fantastic, except for what Blair considered a "slow start" on the first morning. Then, Blair, his genial hunting partner Michel Maurice, Carm, and I shot seven geese. Bear in mind that the limit at that time of year is three geese per hunter. Carm and I were quite pleased, though Michel and Blair said we could, and would, do much better.
Bordering on more
Time spent scouting fields that after­noon revealed that the geese were concentrated in the Belle Valley area, near the Quebec border, as well as into Quebec. Whyte asked if we'd like to hunt Quebec the next morning, where the limit was five birds per hunter. We nodded and drove over to purchase Quebec licences.
At dawn, two more hunters joined our group and we set up in fields near Notre-Dame-Du-Nord, Quebec. As promised, the hunt was phenomenal.
Geese approached our spread of eight dozen decoys with little hesitation as we lay in our coffin blinds. I remember one flock in particular that literally landed on us. When Blair finally yelled "Take them!" I had a goose standing on the end of my blind that I literally had to scare away before shooting. The action was fast and furious and birds were scarcely collected before another flock would come. Within an hour, we had limited out.
Headwaters of the Ottawa
One of the finer things about field hunting is the scouting. That's when you drive around in the evenings looking for birds. This also permits you to explore the countryside and learn a little about the area.
Our scouting took us through the Little Clay Belt, along Lake Temiskaming, the Wabi and Blanche Rivers, and through the pretty rural Quebec farmlands on the other side of the big lake.
Lake Temiskaming is an impressive body of water that covers 114 square miles and attains a maximum depth of 709 feet. Its name is derived from an Algonquin word that means "deep waters."
Though we didn't fished during our stay, Whyte said anglers fishing Lake Temiskaming and the Wabi and Blanche can expect to encounter walleye, pike, bass, perch, and lake trout in the deeper waters. Good brook trout fishing is not far off, either.
A hunt to remember
We went to bed that evening, happily exhausted and positive the hunting couldn't get any better. I'm happy to report that we were wrong.
Scouting that night revealed the birds were now flocking to the Belle Valley area on the Ontario side and, as a bonus, mallards were in the mix. Whyte, the consummate waterfowling general, decided we'd hunt a field in the area where he'd acquired permission.
The next morning found Blair, Michel, Carm, and myself setting up a convincing decoy spread in the dark and anticipating another morning of fine field shooting. The pink light of dawn blushed over the distant treeline and with it came the wild cries of Canada geese as they crossed the sky looking for a place to feed. Better yet, big flights of mallards were everywhere.
Unforgettable moment
There was a lot of shooting that morning, but there's one moment I will never forget. A flock of about 20 birds had wheeled around our spread several times and, finally, good calling and the use of a mechanical mallard decoy convinced them to commit. They approached from the front, feet down and wings cupped, when Blair called "Take them." Ten shots were fired. Ten birds dropped.
The hunt was an exciting mixed bag of mallards and geese, and it ended with a lone mallard flying at us – the last we needed to complete a limit of ducks. Blair, yelled, "Steve! Take it!" and I folded it cleanly, landing it almost on his blind.
A short while later, we posed for photos with 10 geese and 24 mallards.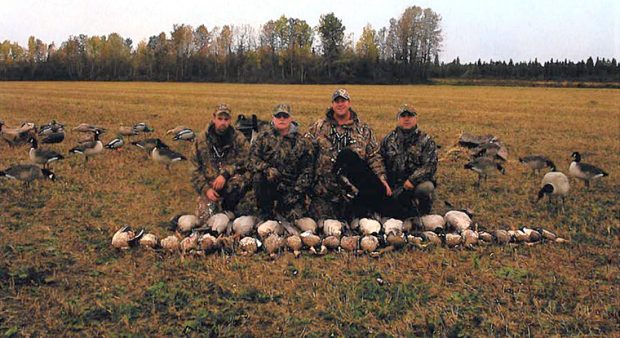 A pleasant surprise
Somewhere along the line, I'd heard that waterfowling around New Liskeard was good, but, truthfully, you have to experience it to believe it. Still, there are things visiting hunters need to know. First, field hunting is tough for newcomers to break into. A die-hard group of local hunters has many of the fields tied up.
Having said this, there are fine opportunities at Hilliardton and along the Wabi and Blanche Rivers, and I'm sure more could be found with a little scouting, especially along the big lake or the Ottawa River to the south of it.
The next thing to remember is that although the season extends well past November, for all intents and purposes, waterfowling here is done by that time; the birds have passed through.
Work out these issues, however, and you will find some of the finest waterfowling, and perhaps the finest northern waterfowling, this province has to offer.
Originally published in the September 2009 issue of Ontario OUT of DOORS magazine.
For more waterfowl stories, click here
For more hunting stories, click here