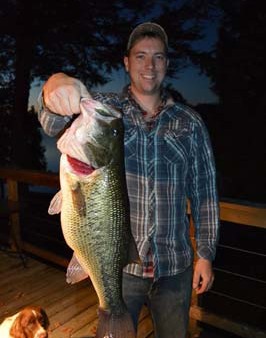 Tim Kidd from Petawawa was the grand-prize winner of our Great Fish Photo Contest. His photo garnered an impressive 5,412 votes.
He caught the largemouth bass in the photo near Burridge in southeastern Ontario on White Lake while sitting on a friend's dock, waiting for them to get to the cottage. Although Kidd usually fishes with a wacky worm, he switched it up on this day and used a green-and-silver worm harness.
"I caught that monster. They didn't believe me [at first]," he said.
Kidd won a set of CUDA Brand fishing tools, some hunting knives from Camillus Knives, an OOD hat and field team jacket, and soft-plastic baits.
Janet Lefebvre of Sudbury was winner of the random draw of all contestants. She won lures and an OOD hat.
Congrats again to both of you.