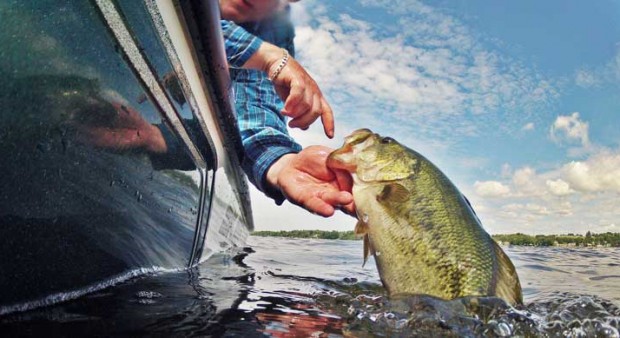 As popular as drop-shotting is, few have strayed from the original finesse rigging. Fishing League Worldwide (FLW) pro Cody Meyer of Auburn, California — considered one of the world's best at the drop-shot technique — began experimenting with it after getting poor results with traditional Texas-rig baits. He then took it a step further.
"How I got started with heavy-drop was watching everyone use the same Beaver-style baits and big line in the California Delta. Everyone was flipping and pitching down the bank. I knew I had to do something different to compete," explained Meyer. "Drop-shotting is great for catching a lot of bass and works equally well at catching big ones."
With his largest bass on a drop-shot rig weighing in over 12 pounds, Meyer is a firm believer in the rig's abilities.
Location, Location, Location
"You cannot go wrong with a drop-shot," declares Meyer. "It works throughout the seasons and catches fish anywhere."
This beefed up finesse presentation isn't just for deeper water. It excels equally in shallow water. Its only limitation is casting accuracy. Having the bait and weight apart from each other causes the rig to tumble in mid-cast.
Any rocky area is drop-shot heaven. The dropper weight maintains bottom contact while the bait remains above potential snags. Adjust leader length to the mood of the fish. A few inches are all you'll need if the bass are hugging bottom or foraging on crawling crayfish. Lengthen the dropper up to a full yard if bass are coursing aggressively after baitfish. Bounce the rig, often the heavier the better, over rocky points, isolated boulders, or riprap areas.
Heavy drop-shotting is just as deadly on smallies as the original finesse version. Drop your bait down a size or 2 to make it more appealing to smallmouths.   
Gearing Up
Baitcasting is the way to go with this technique. Meyer selects a 7-foot, 2-inch rod in medium heavy. He matches it with a low-profile reel, spooled with 20-pound braided line. He links a 15-pound fluorocarbon leader with an Albright knot. If the bite is difficult he'll downsize to a 12-pound leader. Meyer prefers a No. 3/0 to 5/0 Gamakatsu straight shank hook with a homemade keeper.
Subscribing to Meyer's gear choices, I prefer to use all fluorocarbon in clearer water and all braid in heavy cover. I tend to stick to heavier line to maintain greater control but unlike Meyer, I'm not trying to pay a mortgage with every bass I catch.
Any traditional soft-plastic bait will work, but most of my success has been with craws, which are short yet bulky enough to hold a larger hook. Largemouth and smallmouth bite them with equal vigour.
Rigged with the right gear, heavy drop-shotting is an extension of an amazing technique that can and will work anywhere.
A version of this article first appeared in the June 2014 issue of Ontario OUT OF DOORS.