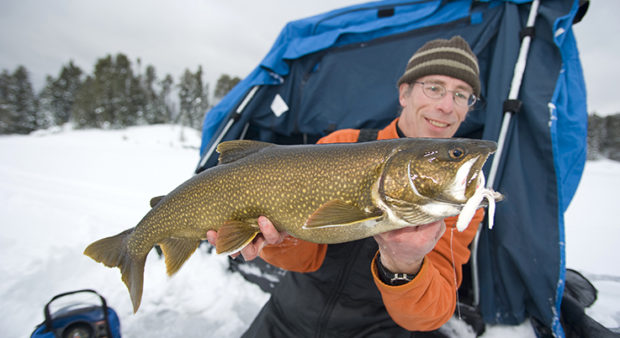 "You're really not much help," I say to Barry Brown as we stand in front of a huge map of interconnected lakes. I'm trying to get some tips on hot lake trout spots. Barry, owner of Browns' Clearwater West Lodge, laughs and says simply, "Fish are everywhere." As it turns out, he has hit the nail on the head. Over the next three days, we catch fish from virtually every spot we try.
Drive to lake trout
Located just off Highway 622 north of Atikokan, Browns' Clearwater West Lodge is one of a handful of northwestern Ontario lodges open year-round. Its solid reputation as an ice-fishing destination is built on the backs of the numbers of large lake trout pulled through the ice each year, including the world record ice-angled 40-pounder. It doesn't take much convincing for partner, and OOD field editor, Ben Beattie to dart down from Sioux Lookout to join me at Browns'.
We aim our pop-up shelter-equipped snowmobiles toward a point a few miles east of the lodge on Clearwater Lake. Ben's enthusiasm is evident – he has a hole drilled and a fish on before I've even set up. It gets off at the hole, but the early action is encouraging. When I finally get my line in and sonar hooked up, I see a fish move off bottom at 45 feet. I quickly lower a small white airplane jig and it's intercepted at 20 feet. After a spirited battle, I'm hoisting an 8-pound togue for a few photographs before releasing the sculpted orange-finned specimen.
Fun with suspendoids
Our early success on Clearwater lays the foundation for the weekend. The lakers are large, healthy, and aggressive. Best of all, they're suspended throughout the water column and hit a wide variety of jigging lures with abandon.
Favouring a 3⁄8-ounce white tube jig, Ben extracts several Clearwater residents in the 6- to 8-pound range. I keep busy with a white or green airplane jig, a 1⁄2-ounce firetiger-finish spoon and a 3-inch Salmo Chubby Darter. This is lake trout fishing at its finest. Ben and I move from hole to hole, working the water column with eyes glued to the sonar. Sometimes the lakers rocket up from bottom to nail a lure near the surface. Other times, we have to go down to them and tease them into striking. It's the kind of cat-and-mouse outdoor video game that lake trout anglers live for.
When the action wanes in the early afternoon, we head to a narrows at the north end of the lake where we each connect with a few more trout. Towards the end of the day, a father and son arrive from the north. They've been fishing White Otter Lake, accessible through a short portage trail. The father says he's been coming here for 38 years. I look over at Ben, who nods. We're both thinking White Otter for the morning.
Back at the lodge
We snowmobile to the door of our cabin where propane heat, a full kitchen, huge living room, and sleeping quarters for six make this a pretty luxurious ice-fishing base. Light issuing from another five cabins reveals that Browns' is full. Great fishing and true winterized accommodation seems to be working well for the lodge. Works for us too.
An early night is followed by a mild, foggy morning as we snowmobile north over a wide portage trail to White Otter Lake. A foot of fresh snow makes us feel like we're the first to travel these parts. We're guided by the outline of fog shrouded islands and a rocky shoreline. We choose a point and set up. Another great day slides by, hastened by a chorus of quality trout and even a singleton pike, approaching 40 inches.
The following morning we return to the bountiful waters of Clearwater Lake to fish two new spots. As I set a bucktail jig into yet another strong fish, I look over at Ben and mutter, "I guess Barry was right. The lake trout are everywhere."
CONTACT INFO
Browns' Clearwater West Lodge
P.O. Box 1766
Atikokan, ON P0T 1C0
1-800-900-4240
www.brownsclearwaterlodge.com
North of Superior Tourism Association
119 South May St.
Thunder Bay, ON P7E 1A9
1-800-265-3951
www.nosta.on.ca
For more information about Ontario fishing adventures, visit www.gofishinontario.com.