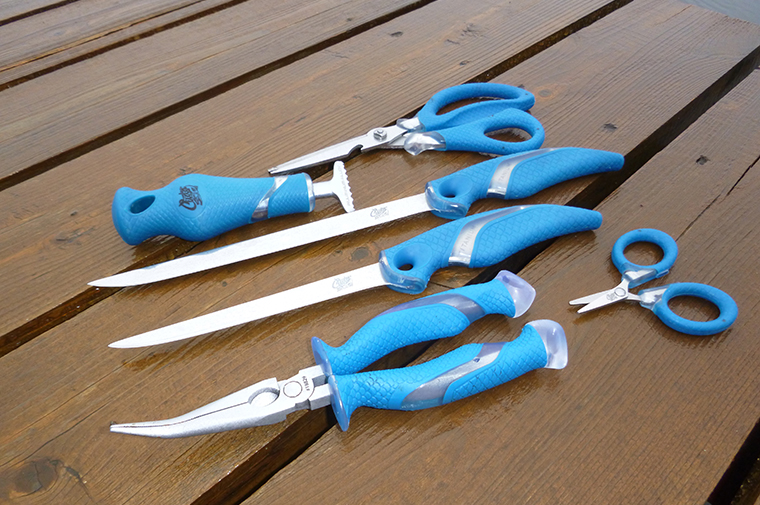 When most anglers think of fishing gear, rods, reels and tackle immediately come to mind. This is often followed by visions of boats, outboards, trailers, electronics, trolling motors, waders, polarized glasses and even lucky fishing hats. Fishing tools, however, rarely make the list.
Yet, as soon as a big fish is hooked, those tools are what an angler needs most.
When the need arises
Think about it.
A net is the first thing every angler reaches for when a lunker is brought close to the boat. And no sane person would go near the toothy maw of a deeply hooked pike or muskie without a jaw spreader, dehooker or pliers in hand. Likewise, we use our scissors or shears countless times a season to cut and re-tie frayed line after a fight or having dragged lures across rocky shoals. And when shore lunch is being prepared, who doesn't reach for the fillet knife?
Luckily, the people at Cuda understand how important fishing tools are. They also know an angler's needs vary depending on target species and where they fish.
Shore lunch made easy
That's why they sell 28 different knives for anglers. The collection includes fillet knives in lengths from 4- to 10-inches with different levels of flex, so that you can have the right knife for anything from panfish to pike. Each features full tang construction for added strength, a Cuda grip non-slip handle as well as a corrosion resistant Titanium Bonded German 4116 stainless steel blade. Most are fixed blades, but if you are looking for something more compact, a folding model is available, too.
Feel like a delicious feed of catfish? Cuda's 6-inch skin gripper makes preparation easy. And though scaling fish is nobody's favourite task, you'll appreciate how much easier their descaler makes the job with its ergonomic handle and aluminum alloy, corrosion resistant frame.
Toothy tools
They are also aware that a jaw spreader doesn't just protect fingers. It protects fish, too, by facilitating quick hook removal so that the fish is handled as little as possible. Their spring loaded, jaw spreaders can be operated with one hand, which allows you to use the other to reach for their 18-inch dehooker or, if need be, Cuda's long-handled slender hook cutter to get that fish in the water or cooler quickly. Their pistol grip pliers, which keeps your hand out of the way so you can see the hook you are trying to dislodge, is an ingenious design, specifically designed with the angler in mind.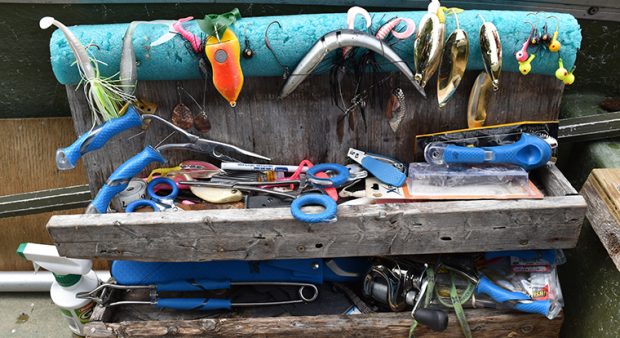 Keeping sharp and making the cut
It's no surprise that a company that sells razor-sharp blades has given thought to hook sharpness, too. Their DMT Diafold diamond hook sharpener will fit in your shirt or fishing vest pocket and ensure that all your hooks are sticky sharp. That can mean more fish in the boat.
Practical knowledge gained from angler input is also why Cuda's Titanium-bonded, double-serated shears are one of their bestselling products. It cuts braid without fraying and comes in several sizes, including a popular 5.5-inch model, which is just the right size for most fresh water applications. It's also one of the six line management tools in a lineup that includes forceps and pliers with line cutters built in.
Basic tools like these might not be your first thought when you think of fishing, but they should be your last before you leave the boat launch. Keep them in a Rubbermaid food storage container in easy reach. They'll last forever and be there when you need them – which is hopefully very often.
To learn more about the Cuda brand, click here.