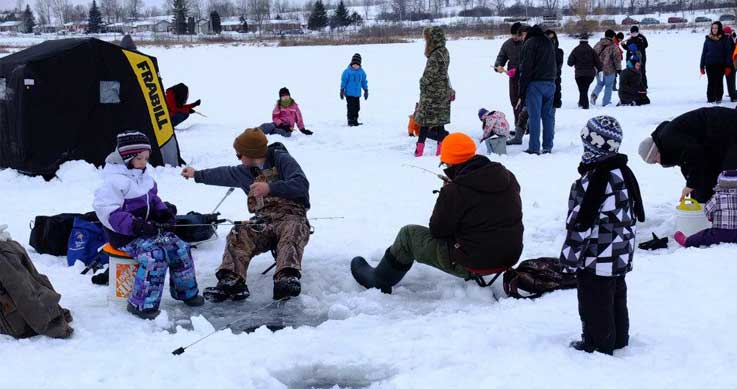 Looking for something to do this Family Day long weekend? Take advantage of the many licence-free ice fishing opportunities being hosted across the province through Ontario Family Fishing Events.
From Saturday, Feb. 15 to Monday, Feb. 17 Canadian residents of all ages will be able to fish in Ontario waters without the normally required fishing licence. Family Fishing Events is a program of the provincial government run by the Ontario Federation of Anglers and Hunters (OFAH). It is designed to introduce new people to angling by removing some traditional barriers, such as the cost of a licence, lack of equipment and need for assistance.
The OFAH will be holding a free family ice fishing event from 10 a.m. to 2 p.m. on Chemong Lake on Feb. 15 where all holes will be pre-drilled, and all fishing equipment and bait will be provided. Each child will win a prize, and there will be a grand prize draw for all participants of an ice hut and auger. In case of inclement on event day, check social media or local radio.
The annual Ice Fishing Derby at Valens Lake Conservation Area near Cambridge will take also place on on Feb. 15, from 6 am to 2 pm and the Ottawa Region Walleye League Free Kids Day on Ice in Dunrobin is being held on Feb. 15, 9:30 am to 1:30 pm.
There are numerous other events being held across the province. Here is a listing of other events.
For more, follow Family Fishing Events on Twitter @onfamfish or visit the Facebook page.