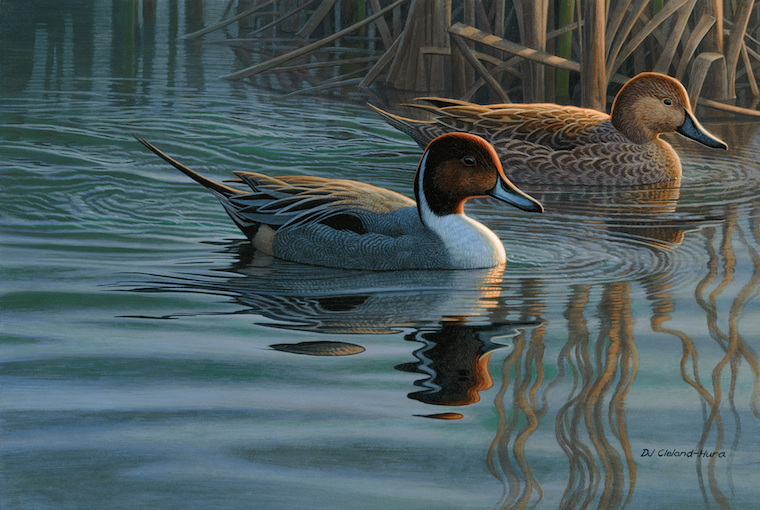 Wildlife Habitat Canada (WHC) chose a pair of northern pintails to grace the 36th Canadian duck stamp.
DJ Cleland-Hura's original art piece "Spring-Northern Pintails" will adorn the 2020 Canadian Wildlife Habitat Conservation Stamp and Print. The last time a pintail was on the stamp was 1988.
Whether you know his name or not, you are likely familiar with the artist's work. Cleland-Hura has been a featured instructor at Pixar Animation Studios, Vancouver Film School, and The Animation Workshop in Denmark.
Work well known
His concept work, as well as lighting and color design, has contributed to a number of film projects including "Finding Nemo," "Ballerina," and "Space Chimps." He also designed fantasy artwork for "Magic: the Gathering," and has worked as an illustrator and created political cartoons. Cleland-Hura has also won numerous wildlife stamp competitions that raised funds for habitat conservation.
The national art competition he won is held annually, and the winning submission is selected by an expert panel of judges. The winning stamp and print are prized by collectors.

The stamp must also be affixed to Migratory bird hunting permits in Canada to validate them.
"Spending time in the wilderness studying the environment and the wildlife inspires me to capture the beauty and vitality of nature. For me, my art is the best way to repay what nature has given me. It is my form of praise, of homage, and of thanks," Cleland-Hura said.
Investing in conservation
Funds collected from the stamp are directed to habitat conservation and stewardship efforts across Canada through WHC's grant program. The funds sustain a unique partnership with the Canadian Wildlife Service of Environment and Climate Change Canada, as well as Canadian wildlife artists.
Since 1985, more than $50 million has been invested to support conservation projects across Canada.
At press time in mid-April, the annual public stamp launch event with Rousseau Stamps and Coins at Hudson's Bay (Montréal, QC) was postponed due to developments with the COVID-19 pandemic.
Click here for more outdoors news