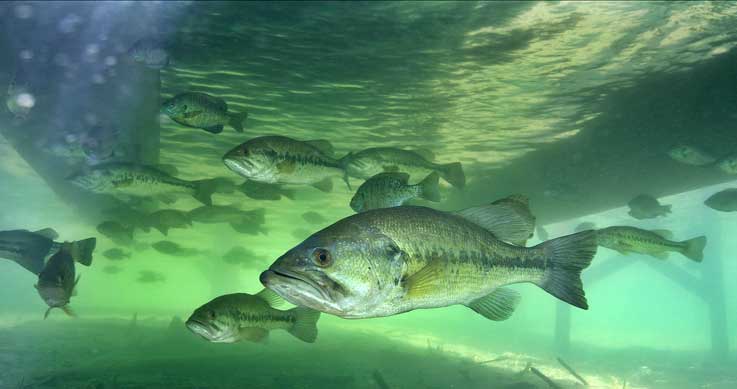 In terms of the experience, numbers of fish, and quality of bass, this province is second to none. We have big-water options for both largemouth and smallmouth bass, and endless smaller lakes that receive little angling pressure.
Summer is prime time to catch bass here in Ontario, and this rundown of tips and techniques will surely help you catch more fish on any body of water.
Northern Ontario
Growing up in Northwestern Ontario's Sunset Country, I enjoyed countless 100-plus warm summer fishing days. Sunset Country region is located at the northernmost point of smallmouth and largemouth range in North America. High-profile summer tournaments on Lake of the Woods and Rainy Lake have brought a lot of attention to the great bass fishing in the region.
Anglers who like to fish with topwater baits can experience top-notch fishing throughout the season. While hot weather causes bass to slide into deeper water across much of North America, the opposite happens across the north. I promise you, big numbers of smallmouths move into shallow water when we experience hot weather up north, in as solid a pattern as you will ever find.
Shallow weedbeds attract schools of fish, and, if you can find some rock mixed in, you have a high profile spot.

Covering water with topwater walking baits or propbaits works well. And once you find them, it's not uncommon to uncover schools of smallmouths milling around in weeds where you can sight fish them with small hair jigs or weightless soft jerkbaits.
Largemouth bass opportunities
Though largemouth bass are not as widespread across the northern part of the province, great opportunities exist in some waters. Kenora-based biologist and tournament angler Josh Peacock advises anglers to keep their eyes peeled for healthy aquatic vegetation if they want to find largemouths.
"Always pay attention to the type of vegetation you are finding fish in and then try to duplicate it. As well, changes in vegetation, like a hole in the weeds or a change from one species to another indicates that there is a change in bottom composition, which can be a magnet for fish," said Peacock.
He finds that on those really hot "dog days" of summer, shallow frog fishing in the pads can be hot, especially for big fish looking for an easy meal. "The frog fishing can be so fun, anglers just need to make sure they rig up with the right tackle (heavy stuff) and let the fish turn with the frog before they set the hook. Do this and you will not miss any."
"Once we start to experience a few fronts, largemouths will begin to pull out to the subsurface vegetation where flipping a jig in the holes or casting a weightless stickbait around docks and logs can be the top technique," said Peacock.
The Great Lakes
Bass fisheries on the Great Lakes and Lake Simcoe have undergone significant change in recent decades due to the explosion of invasive species. The combination of zebra mussels and round gobies seems to be the recipe for growing giant smallmouths. Zebras have cleared the water, while gobies provide a high-protein forage. Time will tell what influence these invasives will have, but at the moment there is no place in the world where anglers can catch as many 5-pound-plus smallmouths.
Elora native Derek Strub is a big-water bass expert who spends nearly all his time fishing the Great Lakes and Lake Simcoe. Though he's primarily a deep-water specialist, there are times when he mines shallow water for oversized smallmouths.
Weather considerations
"In summer, when temperatures are warm and we have some wind, there will be plenty of big smallmouths shallow on the big lakes," said Strub. "For me, it's all about using reaction baits, like spinnerbaits or jerkbaits, to cover water and look for active fish. People need to keep in mind if they are fishing on these waters and the weather is good, there will be biting fish somewhere. So don't get stuck on specific spots. Keep moving until you find biters, then you can follow up with a tube and fine-tune the exact location of the fish. It might be a sand spot, a cluster of boulders, or a drop. Something will be holding the fish."
When the weather is less than ideal, Strub switches up tactics and uses his electronics to look for smallmouths in deep water. "My advice for anglers is to fish less and look more," said Strub, who routinely scours 30 to 50 feet of water looking for inconspicuous boulders or transition spots. "We are still covering water, only we don't need to use lures to find the fish. We use our electronics and utilize the side-imaging and sonar functions on them. If the fish are there, I can see them on my Humminbird and then we set up and fish over top of them. Day in and day out, a drop-shot rig is the best way to catch them."
Southern Ontario
Ottawa-based bass guru Paul Shibata fishes for bass across the southern part of the province for fun as well as in tournaments. He believes that a tactic employed by American anglers, but seldom by their Canadian counterparts, is worth trying.
"For whatever reason, crankbait fishing has never been as popular in Canada as in the U.S.," said Shibata. "I'm not sure if it's because of all the vegetation in our lakes that there are so many pike (that bite off high-dollar baits), or if people simply find another way that works to catch largemouths, but crankbaits can be the ticket on many days."
Shibata is a big believer in square-bill models, ever since his first experience with a Bagley's B2 several years ago.
"Square-bill crankbaits, by design, are relatively snag free because the lip causes the bait to 'bounce' off everything, yet they have the ability to cover a lot of water and trigger strikes from big bass," said Shibata. "What more could you ask?"
Several companies make models that have worked for Shibata, and me, including the Rapala DT Flat, Storm Arashi 3, Strike King KVD 2.5, and Jackall Aska 60. "The key is to bang them into cover," added Shibata. "When you hit something like a log or rock with them, they ricochet, causing a reaction strike. I like to throw them on 17-pound monofilament, which helps them ride higher in the water column and allows me to muscle the fish around cover. This is not a finesse technique. I have caught largemouths at many lakes with these baits all summer long."
Smallmouth bass opportunities
From Lake Nipissing to Big Rideau, great smallmouth opportunities abound.
North Bay's Rob Hyatt is a guide and tournament angler and OOD Bass Editor Luigi De Rose is based in the Toronto area. Both anglers fish several waters in the province each year, and share the same approach when it comes to finding and catching summer smallmouths. They like to throw hardware (reaction baits) to look for active, biting fish, then slow down and fish finesse baits to try and coax a few more bites out of a school or hot area.
Finessing presentations
Hyatt lets the water colour decide his choice of lure, opting for jerkbaits when the water is clear and crankbaits or spinnerbaits when the water is darker. "On Lake Muskoka, which features clear water, I like to fish shallow weedy areas with a small jerkbait during the summer. Topwaters can be good as well. I also spend time on Lake Temiskaming, which has water colour similar to a double-double coffee. On that lake, banging crankbaits into the bottom or throwing large spinnerbaits that kick out a lot of vibration are better. Once I find fish, I can follow up with a tube and usually pluck a few more."
De Rose adds that anglers should downsize their line and tackle to get more bites. "With the invasion of zebra mussels, anglers should focus on finesse and light line," said De Rose. "Fishing pressure has acclimatized the smallmouths, so accurate casts and trying something new can be key to success."
There aren't a lot of places in the world where anglers can expect to catch a 7-pound plus bass in the summer, but it's happening right here, right now. If we continue to take care of these fish, who knows what will be around the next corner for Ontario bass.
---
---
Originally published in the July 2014 issue of Ontario OUT of DOORS magazine.