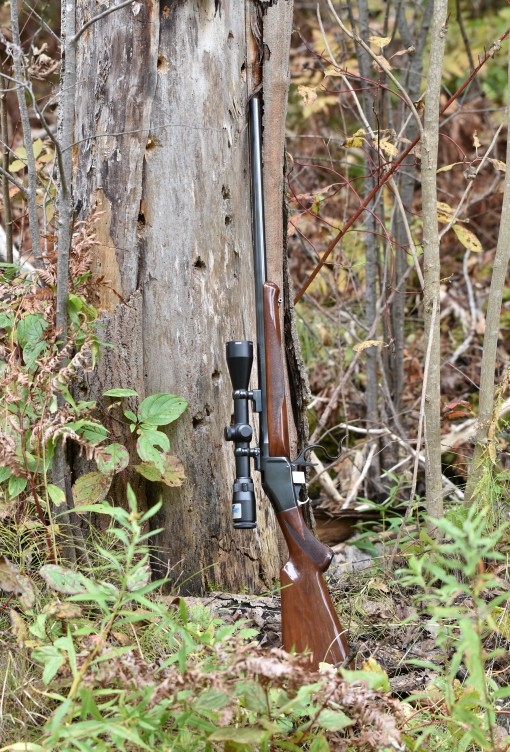 Made: 1878-Present (under Browning and Winchester brands)
Variants: Over 90 different calibres from .17 to .50, plus 20 ga.
Production: 164,325 excluding modern Winchester 1885s
Original price: $25 for an original Browning 1878
Current value: $15,000-$25,000 U.S. for original 1878; $5,000-$12,000 U.S. for vintage 1885; $1,500 Canadian for vintage Browning 78/1885; new 1885 MSRP $1,749 Canadian
When I announced that I was planning my second moose hunt, my wife quipped, "I suppose that means you need another gun!"
"It does now," I replied as I rushed to the gun shop and snatched a 1975 vintage Browning 78 .30-06 off the racks.

It has since surpassed my expectations.
John Moses Browning
My moose gun story is tied to John Moses Browning, who's consid­ered one of the greatest firearm designers. Credited with over 80 designs, Browning's legacy includes the Winchester 1892 and 1894, Colt 1911, Auto 5, BAR, .30 and .50 calibre machine guns, and the Superposed shotgun. But, his Model 1878 is one of his most enduring.
John Browning started in his father's gun shop in Ogden, Utah at age 7. In 1878, he designed and was later granted a patent for his first gun, the Model 1878 falling-block action single shot. His company, JM Browning & Bros, crafted almost 600 guns over the next five years.
Browning's gun was designed for accuracy when long-range shooting was at the height of its popularity at the National Rifle Association's range at Creedmoor, New York. It joined the ranks of the famous single-shots —Sharps, Remington, Stevens, and others.
Gun markets
Although Winchester was famous for its lever-action repeating rifles, it could not compete in the single-shot market, so the company purchased Browning's design and production rights for $8,000 in 1883.
Released as the Winchester Model 1885 High Wall, with a higher steel frame receiver to handle more powerful cartridges, and the Low Wall, for lighter rounds, the gun earned a reputation as one of the strongest and most accurate of the era. Winchester produced 139,725 in over 90 different calibres by 1920. Sadly, the partnership dissolved in 1898 when Winchester rejected a proposed royalty fee for Browning's new Auto-5 shotgun.
The Browning Arms Company re-introduced the rifle in 1973 as the Browning 78 (later B-78) under licence with Miroku in Japan. They produced 24,000 from 1973 to 1982, before tweaking it and re-releasing it as the Model 1885 High Wall in 1985, the Low Wall in 1995, and other variants. Ironically, after Browning ceased production in 2001, the Winchester Repeating Arms Company, now part of the same company, began producing limited editions.
A favoured firearm
The Browning 78 is one of my favourite guns. While its 26" barrel is longer than most, the gun itself is short because of the action. Heavy, but well balanced, it's accurate off-hand and off the bench. I hear that it out­matches its rival, the Ruger No. 1 falling block, so I may need to acquire another moose gun, for testing purposes.
Originally published in the Nov.-Dec 2019 edition of Ontario OUT of DOORS magazine
Click here for more outdoors news
For more guns and gear, click here