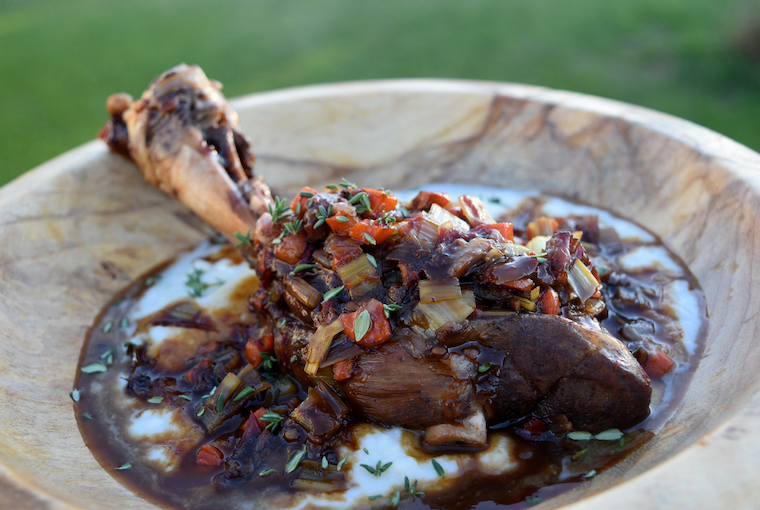 Don't turn those shanks into burger meat. Venison shanks are fall-off-the-bone delicious when slow cooked for hours. The flavours in this dish are perfect for cold fall evenings.
Ingredients
Serves 2
1⁄4 cup canola oil
4 venison shanks, silver skin removed
1 onion, diced
2 large carrots, diced
2 celery stalks, diced
5 cloves garlic
1⁄4 cup flour
3 cups venison stock (beef/veal stock will work)
2 cups dry red wine
2 large tomatoes, diced
3 tbsp tomato paste
2 tbsp concentrated beef broth (better than bouillon or Knorr)
4 sprigs fresh rosemary
1 tsp cloves
3 bay leaves
Salt and pepper to season
1⁄4 cup fresh parsley
Directions
Preheat oven to 350°F (175°C).
Heat oil in a heavy based pot over medium-high heat. Sear shanks on all sides until nicely browned.
Sauté the onion, carrots, celery, and garlic in the same oil for a few minutes.
Coat the shanks with flour and return them to the pot to brown further, approximately five minutes.
Add stock, wine, tomatoes, tomato paste, concentrated beef broth, rosemary, cloves, and bay leaves.
Cover the pot and place in the oven for three to three-and-a-half hours or until the meat pulls off the bone.
Gently lift the shanks out of the broth and keep them warm.
---
Andrew Rochon is OOD's food editor. You can follow more of his culinary adventures on Instagram: @wilderness_chef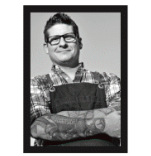 Originally published in the Fall 2022 issue of Ontario OUT of DOORS