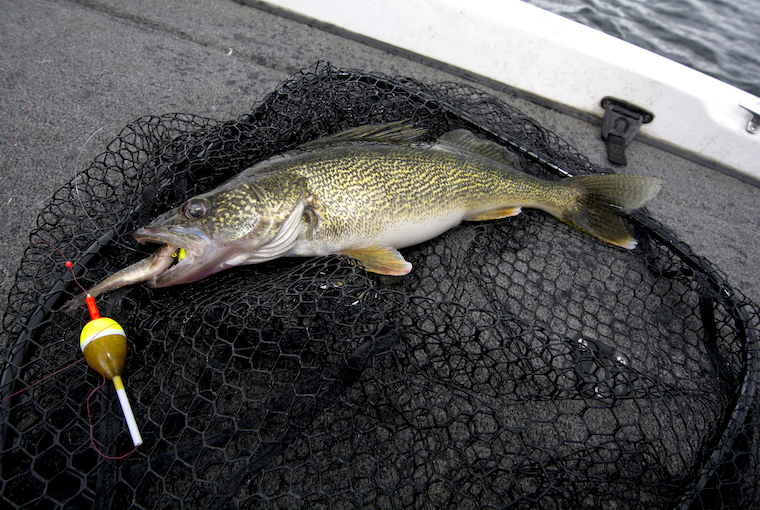 The sight of a slip float suddenly sinking beneath the surface courtesy of a hungry walleye unable to resist live bait never gets old. Below, two walleye experts share slip-float strategies for catching summertime walleye.
Summer spots for corkin'
"In terms of good slip bobber locations, I tend to think of shallow or deep, not moderate or in between," said Joel Nelson, a walleye expert and angling educator from Minnesota. "Deep stuff tends to be flats or deep gravel bars…. [and] for the most part, you want a consistent depth in order to pitch all around you."
Nelson also uses a slip float shallow, especially on wind-blown structures. Again, a fairly uniform bottom is preferred to reduce hang-ups. He positions the boat deep, then pitches the float up shallow to avoid spooking walleye in clear water.
Another slip float supporter is Adam Pugh, a fishing guide and owner/operator of Lake Temagami's Loon Lodge (loonlodge.com) with his wife, Kayla. While he prefers artificial presentations, Pugh relies on floats and live minnows in summer to help clients catch walleye from snag-riddled, rock reefs and shoals in 20-plus feet of water. No pitching here, though, given the uneven terrain. Instead, he sets the bobber stop to keep a back-hooked minnow eight to 16 inches off bottom, then has clients drop the float directly off the side of the boat.
"I use the slip bobber quite a bit for more inexperienced anglers. It prevents snags and compared to a drop-shot, its effectiveness is pretty similar," Pugh said.
Cutting-edge meets old school
"With forward-facing sonar, we're seeing a resurgence in slip bobbering. Garmin's Livescope has revitalized new applications for the slip bobber concept. You can pitch to fish you can see," Nelson said.
He shared stories of anglers cashing cheques in walleye tournaments using forward-facing sonar to find walleye in weedbeds, then targeting them with a float dangling live bait.
In my experience, Nelson's observations are bang-on. There are no guarantees in fishing. But being able to pinpoint walleye, and then dangle live-bait in their faces might be as close to a sure thing as you're going to get.
Also noteworthy are the legions of anglers relying on side-scanning sonar to locate and catch walleye scattered on flats, relating to weedlines, or stationed on sand bars, to name just a few areas.
Sharp-shooting slip floats
"Once fish are deep, they're not very boat shy. I use a technique some call sharp-shooting," Pugh said. "I might spend a half hour looking, then a half hour to 45 minutes fishing."
Sharp-shooting relies primarily on 2D or down-view sonar to get directly over walleye, then quickly dropping a fast-sinking presentation while staying over fish. Jigging Raps, bladebaits, and drop-shots are popular choices, but a slip float has long been the gold standard for live-bait tactics. This is often called "power corking" or "power bobbering."
Rigging floats
"The easiest way to do the whole thing is with a jig head," Nelson said. "If fish aren't shy and are eating it, 75% of the time that's what I run." When walleye are fussy, he switches from a jig to a more finesse and free-swimming leech on a #4 or #6 octopus hook.
"With the water being so gin-clear I feel a long lead is important," says Pugh. "Yes, the sinker is sliding and yes it does bang against the hook. Call me crazy, but that clacking sound, I feel, acts like an attractant and also helps if you're casting. As the minnow swims around the weight will make a noise.
Setting depth
Electronics give clues on setting the bait depth. Inactive walleye might require live bait a mere eight inches above the floor. Active fish suspending off bottom are likely to rise a couple feet for a meal.
"It's really easy to be too far down," Nelson said. "Too low of a bait can hide behind a boulder. I think a lot of anglers can set it a lot higher than they think and get away with it, and also not worry about getting snagged if they happen to cast shallow."
If the midsummer doldrums find their way to your favourite walleye lake, try these slip bobber tactics to make 'em bite.
Originally published in the July 2022 issue of Ontario OUT of DOORS