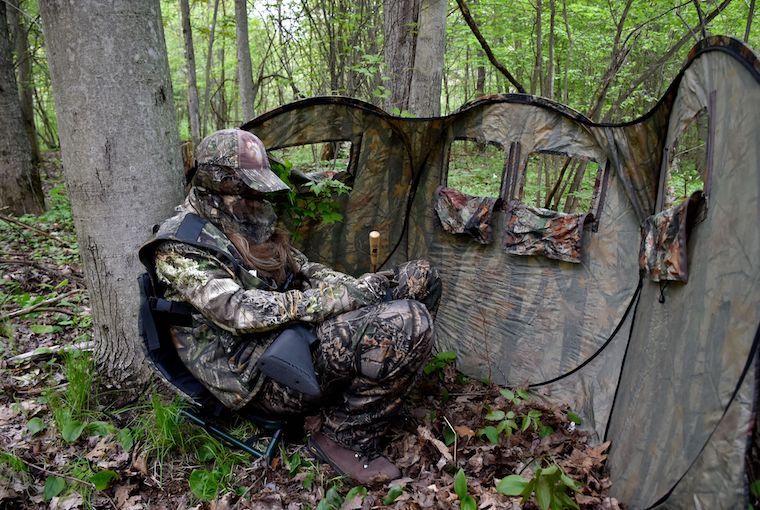 There's no doubt blinds offer advantages for turkey hunters: they conceal movement, offer more comfortable seating, and protection from the weather. What ground blinds lack is portability. There is middle ground, however.
Mini or pop-up blinds or screens offer portability and conceal movement ― the main reason hunters get busted by wary toms. Unlike ground blinds, they can be set up in seconds.
I have taken many toms using various mini blinds. I love how they give me the flexibility to move and to use calls without revealing movement. A hunter who uses only a pot or box call should especially consider using them.
Skip acclimatization
Turkeys are sometimes wary of a full-size blind popping up in the woods or along a field edge, and take some time to acclimatize to it. My experience is this acclimatization is not necessary with smaller blinds. Sitting only about two feet high on average, a pop-up blind camouflaged with vegetation is about the height of natural cover around it.
Where to use 'em
Where there's no room for a full-size blind. For instance, I hunt a lot of gullies bordering agricultural fields. My pop-up blind lets me sit against the largest tree I can find.
Pop-up blinds also really shine for run-and-gun hunters. When folded up, pop-up blinds can go in the back of a vest or over a hunter's shoulder. Setting up after hearing a bird is less than a minute.
"When it comes to run-n-gun hunting, the portability, ease of use and concealment of the Primos stakeout blind is second to none," said Matt Rice of Primos' parent company Vista Outdoors. "For the avid turkey hunter, the ability to quickly and easily set up in the direction of an approaching tom or to ambush at strategic points is phenomenal."
If it isn't windy and the blind isn't staked down, the portability of these blinds gives the hunter the ability to turn the blind if a tom approaches from another direction. This, of course, should only be done if the bird is out of sight.
Options
Primos' Double Bull Surroundview Stakeout Blind is a more recent addition. It uses Primos' proprietary Surroundview material, which is a one-way see-through fabric with holes in the fabric, that lets the hunter see through the blind. It has windows to shoot out of like a larger blind. A three-panel model was added this year.
Ameristep's Jakehouse blind has been around for years. It uses two spring steel panels on each end with camouflage fabric in between. Ameristep's 4-Spur is a simpler option — it's just four stakes with camouflage material between. Both are essentially a screen where the hunter needs to shoot over the top.
Nukem's Grab and Go blind is built on a teepee format. The availability of Nukem in Canada is still to be established.
Cabela's/Bass Pro is entering this segment with its Turkey EZE Portable Ground Blind.
Drawbacks
A pop-up blind is not the same as a full-size blind. It doesn't have a roof or the ability to keep the wind at bay. A tree-stand umbrella could be an option if there is rain in the forecast and there is a tree to set up against, but it is another thing to haul.
The comfort factor of a ground blind chair is also missing. Pop-up blinds are a low-to-the-ground hunting tool. I have used a Vanish Turkey Obsession folding stool to stay off the ground. It's better than sitting on tree roots, but lacks the comfort of a good blind chair.
Use for other game
I have pondered the use of a pop-up blind for archery deer hunting but have never followed through. After talking to Rice, this is on my list of tactics for next year. His wife used a Primos Stakeout blind to take an Oklahoma buck during the rifle season. They had a treestand on the field, but the wind was wrong, so the decision was made to move to the blind.
"She set up the stakeout blind in an open ground position against a fence line that gave her the best wind concealment plus visibility to the food plot and wheat field," he recounted. "After having two smaller bucks enter the food plot, a third 'shooter' came out of woods a mere 15 yards from her location and literally walked by her blind without winding her or getting suspicious. She let the buck walk further into the field until it was around 75 yards and stood broadside." The deer fell to Matt's wife's rifle, and that 15 yards would have put the deer in archery range.
Pop-up blinds are a tool worth adding to a hunter's repertoire.
Originally published in the May 2022 issue of Ontario OUT of DOORS